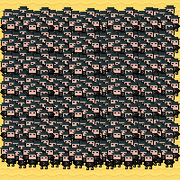 "Meep", said Meep. And then there were Meeps.
"Beware of sudden attacks of Meep. Always take care when traversing deserts. Remember, Meeps can strike when you least expect it." -The International Meep Prevention Society
"For Meep so loved the world that he gave his one and only Meep, that whoever believes in him shall worship the Meeps." -Meep 3:16
I Meep, therefore I am.
Not many people know this, but Meep's true name is SpookyMod
Ad blocker interference detected!
Wikia is a free-to-use site that makes money from advertising. We have a modified experience for viewers using ad blockers

Wikia is not accessible if you've made further modifications. Remove the custom ad blocker rule(s) and the page will load as expected.